Dougster, call me when you have a minute - 772.770.1225. I have tried to respond to your question regarding KiwiGrip but I keep getting "Mail Failures" associated with the email address you used!! Talk with you soon, Jeff
---
Hey Jeff, I'll call Monday, thanks.

Dougster
---
Dougster, great and have a nice weekend!! Jeff
---
I put some fresh Kiwi on this morning. The new stuff was more creamy and better looking than the 7 year old stuff that failed, though the failure was probably related more to my tepid 220 grit sanding. I sanded more aggressively, with 100 on 180 this time, and even roughed it up with 80 a bit. Here it is taped and ready for Kiwi: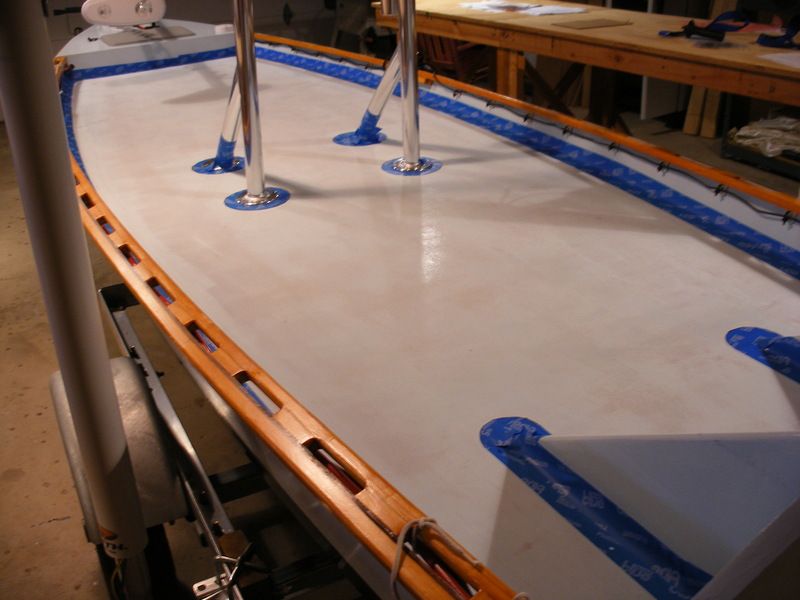 Here's she is with fresh Kiwi. Pics don't do it justice, they pick up more flat spots and lines than you really notice: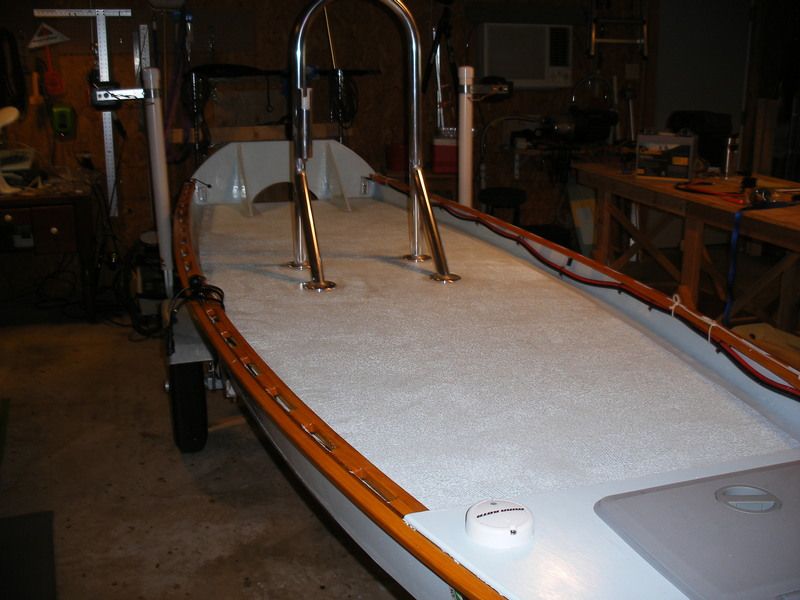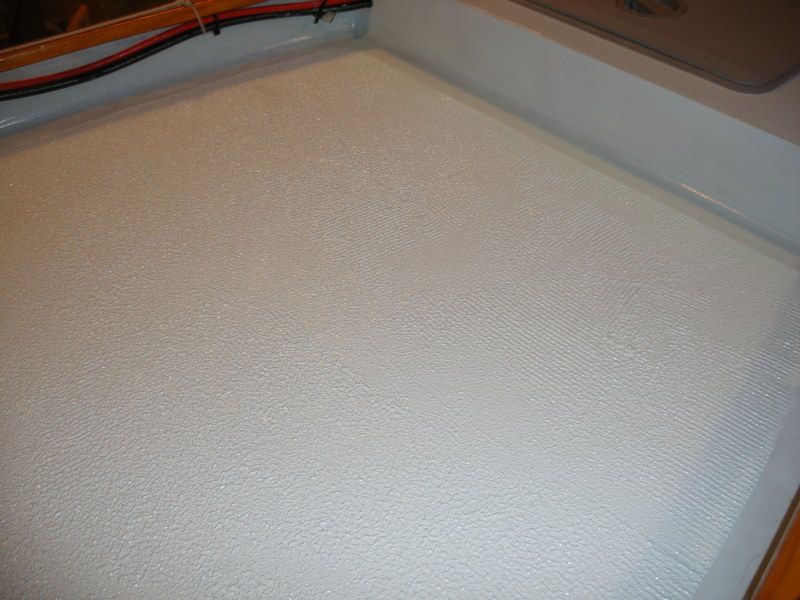 I'm happy to finish this. Since I was working on her I decided to move the battery box. It was on the port stern side and looked off center. 50 lbs of battery made it feel weird too, when I stepped over to port, say to go around the grab rail, and added my 185 lbs. to that side! Also there was no good way to anchor the battery well and it bounced a bit on the trailer. I am moving it to the center aft and have already drilled/filled/redrilled the holes for nice anchors to strap the thing down really well. Had to extend the 4 gauge 2 feet but no problem there. I'll post pics of that change when finished.
Looking forward to getting her back in the water.
Dougster
---
* Bateau Builder - Expert *

Posts: 6007
Joined: Thu Sep 13, 2007 9:13 pm
Location: Dade City, Florida
Doug, the kiwi grip looks great! I really like the bright work too!
Richard
Completed boats...XF20 "Red Alert", Aripeka Angler's Strip Canoe, FS18 "Bare Bones", GF12
Currently building...PY12 Kayak
If there is magic on this planet, it is contained in water. - Loren Eiseley
---
Doug, I agree the Kiwi looks really good!! Any trouble this time around with the application? Jeff
---
No trouble Jeff. For folks who haven't used it, it's the consistency of cream. I would slop a few blobs out with a big wooden spoon, then spread them roughly with a big wide brush, rake with a notched trowel, and roll in several directions with the provided roller. I'd work about a 3 foot sguare section at a time. No trouble keeping a wet edge. The whole job, including pulling the tape was 90 minutes. I wish all painting and cleanup (it's water based) was this easy.

Dougster
---
BTW, thanks for check in Richard. I'm following your build and envious about your upcoming Alaska trip. It's on my bucket list.

Dougster
---
* Bateau Builder - Expert *

Posts: 5569
Joined: Tue Aug 02, 2011 4:23 am
Location: Kasilof, Alaska
Really nice looking skiff. They just look like a lot of fun.
I sure hope the kiwi grip works out for you this time.
---
Thanks Fuzz, I feel pretty confident about the bond. It's "fingernail tough" for sure now after two days. I was just careless with a perfunctory sanding using only 220 grit I think. Since I was taking time to re-do the sole I decided to move the battery over to the center line instead of the port side. Better balance, looks better, and just makes more since. Of course the 12' cable run to the bow wasn't long enough but I'll show how I added the extension. Dunno how correct it is.

It wasn't anchored down on the port side, where I had it, and that's no good at all. So I tossed the cheapo plastic anchor ties that came with the battery box for these. They're good and through bolted. I'm trying to post pics from Photobucket but all of a sudden it won't work. It just comes up with links to photobucket on my post preview, not a real pic. I'll try later. Here's where I bought to tie downs for the battery:

Dang, the URL won't copy. Well, it's at Kennedytiedown.com
Then go to product overview

Says dang computer Dougster
---
Users browsing this forum: No registered users and 46 guests