Lookin good Dougster! You will be on the water in no time!
John
---
* Bateau Builder - Expert *

Posts: 2739
Joined: Tue Oct 30, 2007 6:27 pm
Location: Florida
Location: Florida
With the Ipe wood on my boat i used deks oil " i dont know if thats how you spell it' You keep putting it on every 15 min until
it won't soak up any more ,then wipe it off. As long as it's not sitting out in the sun every day it lasts a long time. easy to apply.
Did the wheel with it also.
Novi 23 finally launched !
---
Active Poster

Posts: 239
Joined: Sun Feb 14, 2016 10:06 am
Location: Bayboro, NC
Dougster, your SK14 looks great and I really enjoyed viewing your thread on your build. I am currently building one from a kit, My kit came with 2 doublers that are 24" long and fit between stringers (the given space is 35 1/2) Plans show them in the middle between D&C frames, I noticed on your build the entire space between that area is covered: Did I miss something in the plans or should it be butted up against C frame? Thanks for your input
Capt. TW
---
Hey 'drum, page 5 on this thread shows my doubler, which I think is from frame C to D. Earlier pics show a butt block that I fit underneath the sole which may have confused things by looking like a doubler? Anyway, I put it between C and D and at the 35 1/2" length you mention. I guess we don't even need it if we don't use a grab rail, but I do want the rail.
BTW hello John C, how are you doing? It's been a long time, we ought to meet up here or somewhere. I'm playing at the Redbud tonight, come on by if you can for beer, burger, and blues
I never hear of the Deks topwater. It looks good and I like the ease of re-applying oil. Too late for me though, I already put on three coats of Cetol. Looks good but who knows for how long. I do think she'll live in the shop on the trailer, so no sun.
I have a couple of pics of the Cetol and will update with them later. The sides are painted and she's flipped, waiting for the foredeck to be glued down today or tomorrow. Getting close, need to order the trolling motor.
Dougster
---
Here are a few recent pics. This is the slotted rubrail with Cetol: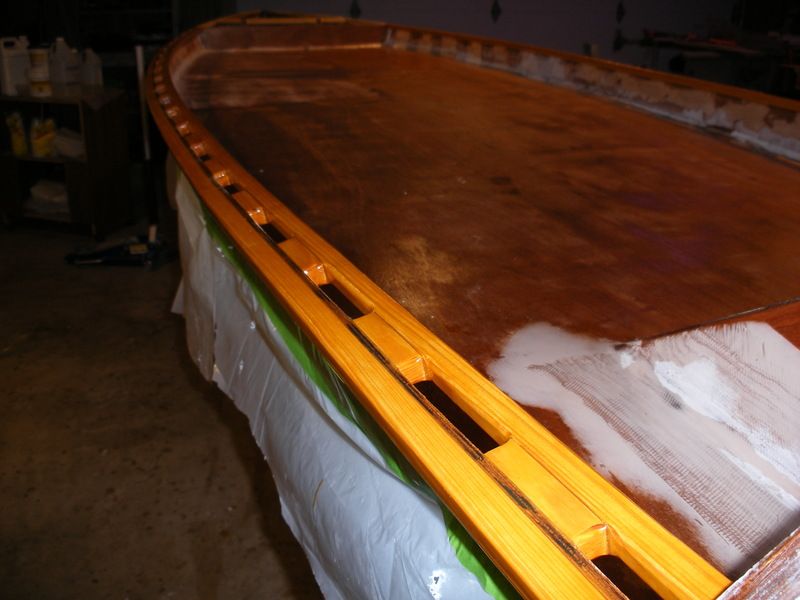 Here's the bow eye being cut with a dull hacksaw blade. Pita. Had to cut two more for the stern and used a fresh blade: much better.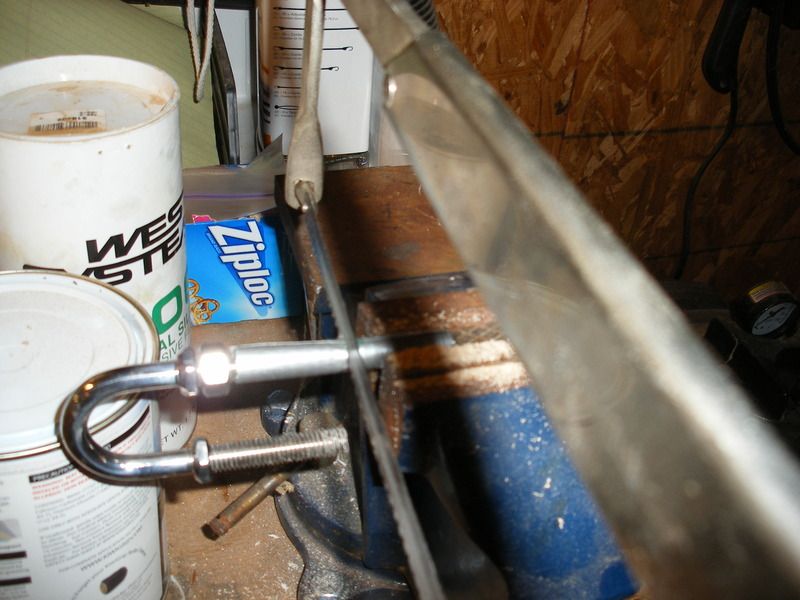 Here's the bow eye set up. I don't like the angle, but it fits and I have a big old chunk of wood as a back up plate. Plus she's not a heavy boat.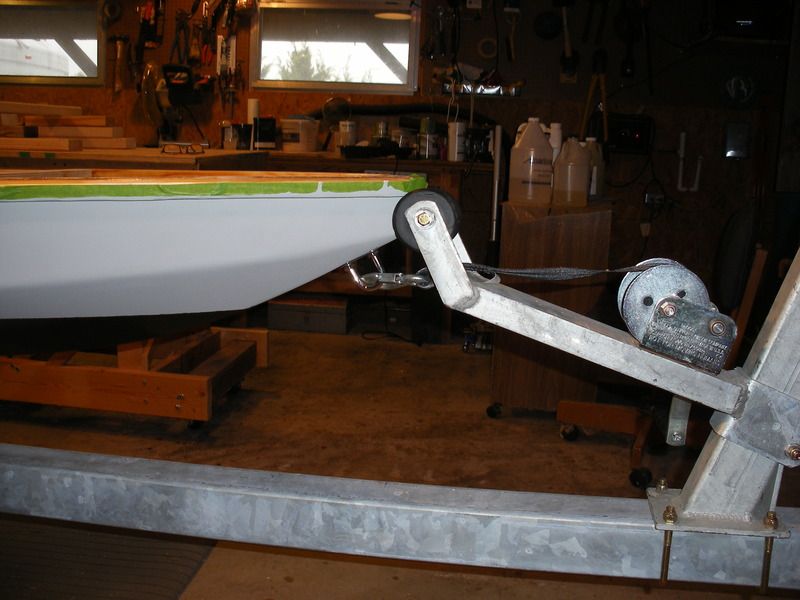 I just finished gluing down the little deck on the bow and will take of pic of it tomorrow with the clamps off. All that's left is topside primer, hardware, and paint. Also grab rail and battery tie downs.
Getting there Dougster
---
Dougster, really nice work on the slotted rub rail!!! Jeff
---
Very Active Poster

Posts: 531
Joined: Thu Sep 29, 2011 9:20 am
Location: Monticello, FL
Contact:
Looks great! Do you remember what the thickness of the spacers were for the slotted rubrail and the spacing of them? I might have to borrow that for an FS13. The wife has approved a double build. I told her no way to the plastic yak!
---
Thanks for the support guys. BB, I'll measure later this morning and post it. Seems like the space was 4" and the spacers maybe 3" but I'm not sure. The rail material itself is pine 1 by 2's ripped in half.

Dougster
---
I really like the looks of those scuppered inwales. I'll be doing the same with mine when I get back to work on it at the end of March. I thought that it would be a great way to attach various mounts for rods, anchor pins, etc. — just slide them into two adjacent slots and then fix them in place with some sort of locking mechanism (still working that part out).

- Brian
Brian
"...there is nothing - absolutely nothing - half so much worth doing as simply messing about in boats."
—
The Wind in the Willows
— Kenneth Grahame
---
Thanks Brian, I've had the same thoughts. If you have any ideas about a simple locking mechanism I hope you post 'em. BB, I measured the slots and it's like I remembered. The spacers are 3" long and the empty distance between them, the slots, are 4". I just finished taping them all for primer tomorrow and it was some kind of pita. Took 2 1/2 hours just to tape
Must be a better way, but once I got started I just decided to over do it and make sure I don't drip any paint where it's not wanted. Overkill in the end, but it's done. The new blue 3M tape I used is nice stuff and says you don't have to pull for 14 days. That's enough time for primer, a week to cure, then paint.
BTW, I owe the slotted rail thing entirely to Fred in Wisc. His explanation, with pics of how to are in page 4 of this thread. Thanks again Fred, I'g glad I followed your advice
Tired of taping Dougster
---
Users browsing this forum: Google [Bot] and 1 guest