The only thing I know that will stand up to dragging down a concrete boat ramp is a wheel!
Hank
---
* Bateau Builder *

Posts: 2430
Joined: Sat Dec 07, 2013 11:29 am
Location: Marin County, CA
Contact:
Could the fairing compound beneath the graphite be the problem?
Don't think so. The problem is that concrete is harder than epoxy.
I have been thinking about ordering some of this stuff.
https://www.amazon.com/FT-KEVLAR-FABRIC ... lar+fabric
Canoeists use it to protect the ends of the boat and there are expensive kits for that but this is cheap...although the color doesn't appeal to me. So maybe a couple of coats of epoxy/graphite on top of it. I'd be putting this mainly in the area where the bow takes a beating when I lift the stern to get it on the cart. As of now I'm doing OK with what I've got.
Tony
---
* Bateau Builder *

Posts: 183
Joined: Tue Jun 13, 2017 5:26 am
Location: England
Looks like you need to get something very tough or maybe sacrificial on your wear prone areas.

I'd be tempted to fit a convex metal strip to your skeg. Brass would be easiest to work but Stainless would be tougher.

The corner bits that are taking a beating could have a piece of polypropylene glued on. It's light, tough and really quite slippy so it works well in those situations. It can be welded so you could make some corner covers out of maybe 1/8" thick and just stick them on with silicone. When they start to look knackered, ease a scraper underneath, pop them off and fit new. A place that makes water/waste tanks for vehicles might be able to knock something up for you from scraps.
---
* Bateau Builder *

Posts: 2499
Joined: Wed Jan 02, 2013 1:28 pm
Location: Australia
If you're going to be dragging over concrete, a metal protective strip on the skeg and on short strakes newly installed at the aft corners will lessen maintenance work. Real boats get their arses scratched sooner or later, no careful how you are. No big deal on glass covered boats, so long as the glass is not breached.
Completed R13 two part nesting rowboat. ST 21 under construction .... where seeking perfection is recognized as the enemy of the good.
---
I would fix those corners ASAP before taking it out again. I used a very inexpensive piece of aluminum flat stock as a shoe on my skeg for the OD18. All the big box stores carry it, and was easy to drill and install. CL and I put it on at 2am after a FEW drinks...

I did have to repair about 6 inches of the graphite on her nose after a night of her slamming into the sand repeatedly in a brief storm while anchored, but it isn't powdery at all. I am worried about you mix. What was your ratio?
The world always seems brighter when you've just made something that wasn't there before - Neil Gaiman
---
* Bateau Builder *

Posts: 3481
Joined: Wed Aug 05, 2015 7:59 am
Location: St Helena Island, SC
GB/CM, I'm not opposed to some metal cladding. I'm just surprised it's needed. I'm more bothered by where the corners look to be through the glass. I'm worried that there's a problem with my glass job. Too little epoxy?
CM, 1/3 by volume. 3oz to 9oz mixed epoxy. 3oz to 12oz mixed. Last two coats would have been 20% by volume. We are headed back in Friday so I'll get some time to work on her. Wasn't it panning to take her out since we've got that other problem in the Atlantic and it's shrimp time (they came in big last night) and the Mrs made her point with the following:
Mrs: are you rich?
Jaysen: What?
M: Are you rich and hiding money from me?
J: <confused dumb a$$ look>
J: What's going on?
M: Buck called to tell you about the shrimp. And I still have an empty freezer.
At least I know she supports my fishing efforts. That and when the shrimp are in you can't catch anything so you wind up eating your bait anyway.
---
* Bateau Builder - Expert *

Posts: 5645
Joined: Thu Sep 13, 2007 9:13 pm
Location: Dade City, Florida
You didn't do anything wrong with the application of the graphite bottom paint. It's going to be powdery when drag it over a giant concrete sanding block. Graphite/epoxy bottom paint is a massively over-rated concept. It will help some with sand abrasion when beaching but it doesn't do squat for oysters, hard bottom rocks, concrete, etc.The glass/epoxy lamination is what protects the wood, not a glorified 1 mil suntan of epoxy/graphite. I've put the magic graphite on two of my boats, never again. UV eats it up when the boat bakes in the sun and it ends up looking like crap. Just an observation from being around the before mentioned concept for a full decade. I stop just short of using the word hoax, but the word could be used to describe the system. My advice would be to repair and touch up the bottom of Lil Bit and brainstorm a better launching system.
Richard
Completed boats...XF20 "Red Alert", Aripeka Angler's Strip Canoe, FS18 "Bare Bones", GF12
Currently building...PY12 Kayak
If there is magic on this planet, it is contained in water. - Loren Eiseley
---
* Bateau Builder *

Posts: 3481
Joined: Wed Aug 05, 2015 7:59 am
Location: St Helena Island, SC
AA, thanks for the input. I'm beginning to think some 1/16 aluminum on chines and keel and let the glass defend the rest of it. Not sure that's the right answer though. And I don't really have there right metal working tools to make it look good. Yet.

Long term I will be getting a ridiculously priced Dynamic Dollies Type 1 with the big boy wheels. To accommodate the V12 they will customize the support strap components and axle placement. That will allow me to launch/recover just like a trailer (will likely use a golf cart). Whole thing breaks down to a small 12x36x2 space (not including wheels). That will allow me to carry it for remote recovery on various islands.

That's my plan anyway. Hoping I don't have to undo to much of the original build. Right now I'm just going to throw a bit of glass on the corners and put some more epoxy on it. Goal is enough protection to get a couple launches in until I can make a decision on what/how I'm doing going to address this long term.
---
* Bateau Builder *

Posts: 2430
Joined: Sat Dec 07, 2013 11:29 am
Location: Marin County, CA
Contact:
Jaysen,
Don't invest in one of those over-priced dollies until you get a further report from me. I use this: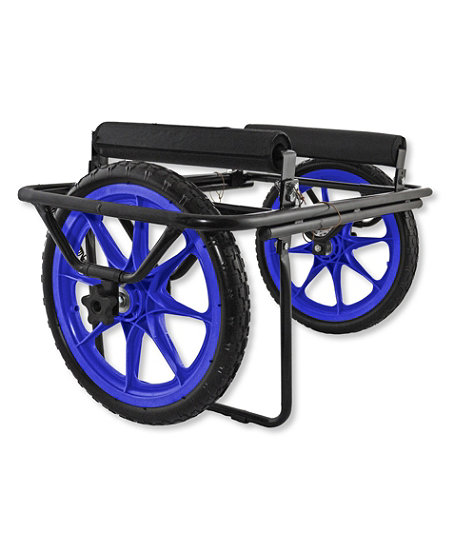 But what I have added is a brace between the two frame crossmembers made of 2x6's with a recess. It holds an eight-foot 1-1/2" aluminum pole for a tongue, by clamping the boards together with two bolts and wing nuts, which are easily removed. The result accomplishes the same thing as the cart you're considering, at about 1/3 the price. I haven't worked out the details but have launched it once using this method and it needs a longer pole so I'm thinking I will add a PVC extension. As you understand, without the extended tongue, the cart will not be recoverable on a ramp. This cart can handle reasonably firm beach sand and pretty large surface ruts and rocks.
Tony
---
* Bateau Builder *

Posts: 3481
Joined: Wed Aug 05, 2015 7:59 am
Location: St Helena Island, SC
I've really tried to avoid the Dynamic's solution. Thing is there are a number of things I can't "make" easily on my own that are key
to me
at this point
1. Lower COG when on the cart. Due to the steep incline of the ramp I need the hull as low as possible to ease getting her up and down.
2. Dang wide tires. It's the mud that's killing me. We've got that high organic stuff that sucks things down. The 8" wide should allow me to launch at lower tide as well as recover to safety in the marshes should I get caught out in a bad storm.
3. Hitch. I'm going to be dragging her about a mile here in CHS. Gulf cart access makes a solid hitch very desirable.
4. Strap vs bunks. While I like the idea of the bunks, the reality as I've seen it is that a strap will make quick recovery much simpler. add the lower COG and loading from the side is much simpler too.
5. Flat storage in the boat to take it with me. Other than the obscene wheels this thing collapses small enough to fit in the boat will full fishing load. That's a big thing as I can hit and of the small beaches and haul out to pavement or trails if needed.
I'd really prefer a cheaper solution. I'm just at the point that the time and materials to "make what I want" is going to be more than just buying something made that will work with no more fiddling. Maybe it's the shift to being away from Lil Bit that I'm less focused on making something and just getting into the water. That or I'm just tired of fiddling with cart add one and attempting to manufacture my own. Not sure which it is.
Let me know how your idea works out. A few pics as well. You may convert me before I spend a ton on a Dynamic.
---
Users browsing this forum: No registered users and 1 guest