Very nice FS14,You have done a wonderful job.
Restored Mirror Dinghy, Bought OD18 built by CL, Westlawn School of Yacht Design courses. LT US Navy 1970-1978
---
Active Poster

Posts: 451
Joined: Fri Aug 19, 2011 1:25 pm
Location: Helena Alabama
---
Stunning
I love the wood finish. Now nothing to do, but enjoy all the hardwork
Will
GV15, D4 done! Dreaming about the next one
---
Thanks for the kind words.
With regard to the woodwork, the rear deck hatch is Okoume ply with a solid teak border. Had to add the border to close the gap and neaten it up. It is the plan opening, if I had it to do all over, I would make it smaller. The sole grates are made from strips of teak with a support cross plate underneath approximately every 12". It is open to allow for drainage through limber holes to the transom drain tube. The grates are removable. The rub rail is laminated teak 1/4" strips, 3 outside, 1 inside with a 1/2" thk. teak cap rail. The breast hook is also teak. All the teak is farm raised to hold the cost down. Somewhat worried about the epoxy teak bond on the rub/cap rail, the attachment is supplemented with SS screws covered with teak plugs.
The buckets are just 5 gallon buckets from Lowes that are primarily supported by a lip and secondarily by flotation foam poured around them about 2" up. They are for bait, fish whatever, and or course are removable. The battery is also under that seat.
While building I was worried about weight with the full sole and foam, and glass all the way up inside and out, but ended up being very pleasantly surprised at the performance with just a 9.9 hp.
---
* Bateau Builder - Expert *

Posts: 6810
Joined: Tue Aug 02, 2011 4:23 am
Location: Kasilof, Alaska
Dang, that is nice looking
---
* Bateau Builder *

Posts: 520
Joined: Wed Mar 07, 2012 4:01 pm
Location: Palm City Florida
Wow, that came out great. Just enough bright work, beautiful paint job. Nice work!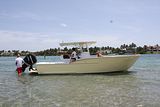 "Do. Or do not. There is no try" - Yoda
https://youtu.be/nzWO9FVJODo
---
* Bateau Builder - Expert *

Posts: 3122
Joined: Tue Oct 30, 2007 6:27 pm
Location: Port Charlotte
Location: Florida
I really like the interior layout well thought out, love the removable teak sole panels
Novi 23 finally launched !
---
* Bateau Builder *

Posts: 2961
Joined: Sat Dec 07, 2013 11:29 am
Location: Marin County, CA
Contact:
All the teak is farm raised to hold the cost down.
Still, that's a lot of teak. It would have cost as much as my whole boat, I think.
Beautiful work.
Tony
---
Really beautiful work!!! Jeff
---
Brackish, we have your FL14 on our main website, have a look when you have time!! Jeff
---
Users browsing this forum: No registered users and 1 guest