* Bateau Builder *

Posts: 972
Joined: Tue May 02, 2006 8:54 pm
Location: Milwaukee WI
Sorry y'all had to go through that. Part of life, yeah, but a really rough part. Will be praying for your family.
---
* Bateau Builder *

Posts: 520
Joined: Wed Mar 07, 2012 4:01 pm
Location: Palm City Florida
My heartfelt sympathy Larry. Someone already said it but that is a great picture. I can tell from your posts that family is everything to you, that's because she did a great job with hers. Brighter days ahead.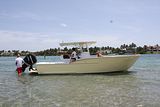 "Do. Or do not. There is no try" - Yoda
https://youtu.be/nzWO9FVJODo
---
Larry, my sincere condolences! I know where you are coming from. I went through almost the exact same thing in February of this year. That's one reason I decided to do a boat build. I have been in a constant state of depression since then. Im hoping this will get me out of the house and back into a normal rhythm of life. It isn't an easy thing to deal with, my friend, even when you know it is coming. Their is nothing like a mothers love.
---
Our deepest sympathy Larry.

Joe & Janet
Completed: OD16, P19, FS14, V12 in progress
---
Sorry to hear this Larry.
---
My condolences.

My mother in law just passed away after a long illness, she was a wonderful person, it's still hard to take even if you've been expecting it.

Jason
---
Condolences, Cracker. I know it was a hard decision, but I'm sure that that is what she would want.
---
* Bateau Builder *

Posts: 560
Joined: Thu Apr 07, 2011 2:54 pm
Location: The Woodlands, TX
Location: The Woodlands, TX
Larry, I'm sorry for you, your brother and your family. I've got the feeling you gave your mom a lot of joy and love in her life.

My condolences, Will
---
* Bateau Builder *

Posts: 841
Joined: Thu Mar 23, 2006 10:51 pm
Location: Central Mississippi, USA
Larry, It is never easy to lose Mom. Every family has a lady that runs the house and keeps everyone in line. I miss mine every day and she has been gone since 1977. The memories get sweeter all the time and I see all the things she taught me even though I did not see it then. Thoughts and prayers for all of you.

Robbie
32.20.0983N
89.48.0787W
GF-16 FIRST LIGHT finished; D-5 Crusader '08 finished, PY 12 plans in hand
---
Sorry Larry. You were fortunate to have her as long as you did. Mine passed 22 years ago at 53. My dad had to make the same decision. I certainly have felt your pain.
Gary
GF-16 Completed
---
Users browsing this forum: No registered users and 3 guests