Where is everybody?
Out fishing?
---
I"ll be at the Monkey bar around 17.30.
And around the dock around 3 PM.
---
* Bateau Builder - Expert *

Posts: 6335
Joined: Thu Sep 13, 2007 9:13 pm
Location: Dade City, Florida
Sandi and I are having a great time at the meet
it was awesome to get to reconnect with so many friends from past meets.
Here are a few pics that we took...
Chopperman and his PH16 out on the water. The boat looks very stabile running in a light chop and he caught some redfish and a small cobia...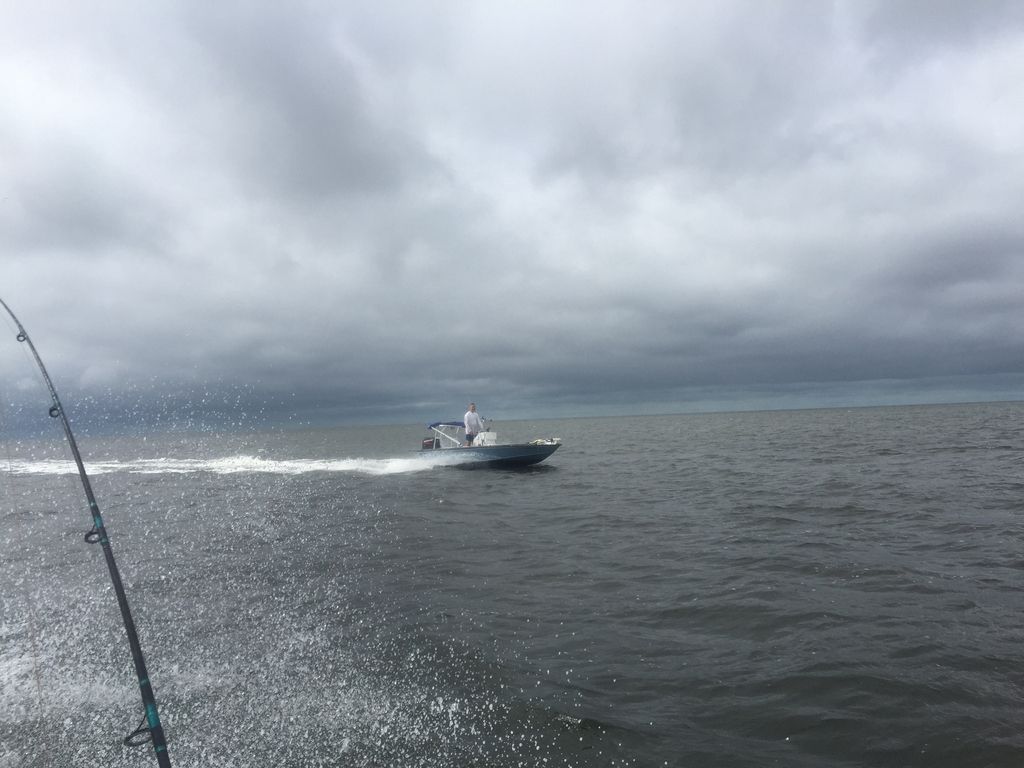 Doc Dyer, Smokymountain and I on the dock getting ready to go hit the flats...
Capeman working a fish aboard Clara, a well built OD18...
It's a small redfish, we caught a bunch of these on Saturday
Here is some of the gang at Neon Leon's Restaurant, they grilled up our redfish and triple tail. They did a great job cooking it...
A few guys didn't make the traditional Bateau group boat photo, but we still had a pretty good boatload
I have more pics, I'll try and post them later...
Richard
Completed boats...XF20 "Red Alert", Aripeka Angler's Strip Canoe, FS18 "Bare Bones", GF12
Currently building...PY12 Kayak
If there is magic on this planet, it is contained in water. - Loren Eiseley
Bare Bones build thread...
viewtopic.php?f=12&t=62146
---
* Bateau Builder - Expert *

Posts: 7606
Joined: Mon Mar 24, 2008 1:29 pm
Location: Curaçao Dutch Caribbean
---
* Bateau Builder - Expert *

Posts: 6509
Joined: Tue Aug 02, 2011 4:23 am
Location: Kasilof, Alaska
Dang, that looks like fun. It is now on my bucket list. Please post all the pictures you can and enjoy yourself.
Fuzz
---
* Bateau Builder - Expert *

Posts: 22480
Joined: Fri Mar 11, 2005 3:39 pm
Location: Savannah, GA
Dang, I hated to miss that. Got to play the cards we are dealt though and not the ones we wished we had.
Questions I would have asked if I wuz there...
Did everybody shop at the the same sandals store?
Does Doc Dyer wax and buff his head?
When did Seth and Andy grow beards?
When did Derrick shave his? And where was Jennifer?
Richard looks a little bit gay wearing a buff, what's up with that?
Is Patti shooting a bird in that picture?
Cape Man can catch a marlin in a mud puddle, no questions there.
Why is Jacques always in the stern in boat pictures, he should be in the bow with the builder.
Where was Sandi, taking the pictures I bet.
Did Mark and Marla have on their matching boat builders T-shirts?
Did John bring the Corona?
Is that Capt. Ken wearing a pink shirt? Should have worn a buff
Sorry I missed your call Ken, it's been a crazy weekend. week, month...
Sure did miss seeing all of you. Love you guys.
Completed GF12 X 2, GF16, OD18, FS18, GF5, GF18, CL6
"Ships are the nearest things to dreams that hands have ever made." -Robert N. Rose
---
* Bateau Builder - Expert *

Posts: 3119
Joined: Tue Oct 30, 2007 6:27 pm
Location: Port Charlotte
Location: Florida
No John didn't bring the Corona
I closed on my house thursday and the demolition crew came on friday
A note to self.... never leave your wife alone with a interior designer
I was going to drive up and hang out for awhile but i didn't know when everybody was going to be around and it's
a 3 hour drive each way. There is always next year.
Novi 23 finally launched !
---
* Bateau Builder - Expert *

Posts: 6544
Joined: Sun Jan 20, 2008 12:02 pm
Location: Lithia, Florida
The world always seems brighter when you've just made something that wasn't there before - Neil Gaiman
---
Yes, there were some nice boats, almost all flats boats with exception of a nice OD18.
Ken brought his famous stump, the one that went through the bottom of his PH16 many years ago.
The weather wasn't great but not too bad either.
Next time, we should set a clear meeting time and place. That motel/marina was nice but large.

The picture with many of us in the boat was taken when half or more had left . . .
---
* Bateau Builder - Expert *

Posts: 2213
Joined: Tue Aug 27, 2002 1:00 am
Location: Crystal River, Fl.
Location: Crystal River, Fl.
No pink for me Cracker. Its an Orvis shirt and the color is Mauve. By the way I caught another snook this morning. 30". Good fish in the slot. Makes the 6th snook in the last 4 days of fishing.The spillways and the dam is wide open. Will take at least another month to drain the river. It runs from the green swamp to the Gulf. Lots of hungary snook in the fresh water. Throwing a large rebel shallow running plug. Used to be black back with gold bottom. About all that is left is a clear body. paint is just about gone. They still hit it though.
I had some numbers for you. If you have a lowrance unit I have them on an SD chip. Hope all is well my friend. later.
Capt. Ken Owens

A little saw dust, a little glue, and a lot of love, and she will float.
---
Users browsing this forum: Fuzz and 2 guests