---
* Bateau Builder *

Posts: 4572
Joined: Sun Jan 10, 2010 5:09 pm
Location: Rolling Hills, WY
---
Today, I painted the flywheel. Tomorrow, after it's dry, I'll install it. I've been trimming out the motor. Zip tie here, a nut and bolt there. Tomorrow, I'll take pictures. I have to make an adapter to fit over the water intake. I'm gonna use a plastic gas can for a make shift tank. I also learned how to make a video and upload it to photobucket. With a lot of luck, I'll be able to start the motor by Sunday.
---
---
Today, I put the flywheel on. Tomorrow, I'm gonna put the hoist back together and lift it on the lower unit. I already made a hose adapter for the water intake and still need to make a makeshift gas tank. I'll probably crank it a few times to work the oil around. We'll see how the day goes tomorrow. Still, quite a lot to do.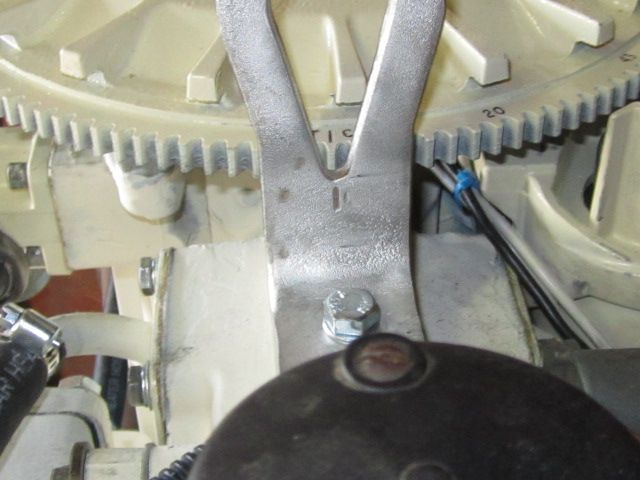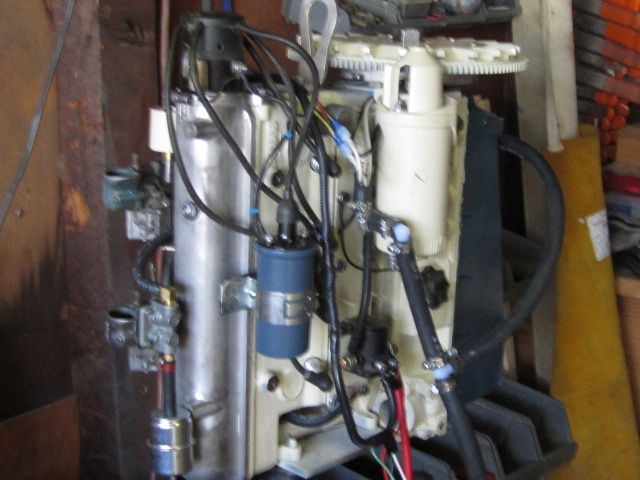 A little fuzzy, but, you can see I cleaned up all those loose wires.
Too bad the motor wasn't finished a little earlier. The Bass derby is this weekend at Big Bear Lake, Ca. First prize, 50 Grand!
---
After all these months, she's finally together. A nightmare putting the motor in. My engine hoist didn't go up that high. So, I rigged a pulley off the garage beam and it went right in. Spline shaft line up and so did the motor mounts. Tomorrow, I'm gonna set up to try to start the motor. Still a lot of little things to do. I was informed to use a trash can or drum filled with water instead of a pressure hose.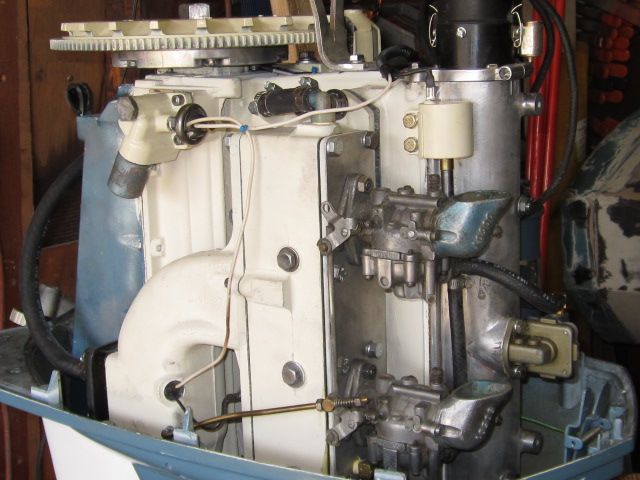 I'll probably try to start it up before the weekend.
---
* Bateau Builder *

Posts: 1557
Joined: Mon Nov 07, 2011 8:51 am
Location: Ingleside, TX
Location: Texas Coastal Bend
---
A long time ago, I had a '64 40hp Johnson. I had it on a 59 Merlin. I had so much fun with that boat. Fishing, camping, you name it. I didn't know a lot about outboards then. I got rid of it about 15 years ago. After I get this motor running, I'm starting on the OB 15 with a lot of modifications. Let's see some pics when your done!
---
How about a quick update? The motor originally came with a external resistor that was a wire. Yup, a wire. Since the new coil has an internal resistor, it had to be wired differently. Keep in mind that most outboards, Johnson, Evinrude, Merc, etc., come with oil/temp. cutoff switches. So, I had to get creative with the new wiring. I also picked up an oil pressure gauge so I can actually see what the oil pressure is. At starting speed, it's 25lbs. That's excellent. However, I tried pouring gas down the venturi, but, no luck. I ordered a primer bulb with 3/8" hose and should be here wed. or thurs. There is a mechanic friend of mine down by the harbor that's helping me alot. I should get it started this week. Hopefully.
---
Like Dr. Frankenstein said, "She's alive, ALIVE"! The whole problem was that the distributor was not grounded. The older type engines used points, not like the new ones which are electronic. I still need a gas tank which I'll get from Craig's list and a primer bulb, which will be here probably Thursday. After that, I'll post a video.
Thanks to all who encouraged me during this project in reviving and old classic outboard. After I post the video of the motor running, it's on to the boat. Nice!
---
Users browsing this forum: No registered users and 1 guest